More accurate measurent with the New Optical System and the Advanced IOL Mode.Advanced IOL mode and the measurement of the pupil diameter is implimented.
Auto Start
It automatically takes measurement for the fixed times after the position and the focus are aligned.  Printing also comes out automatically right after the measurement.
Tilting Large LCD
Operator can be at any position and the large color LCD make the measurement easy.
User Friendly Printer with Auto Cutter
Just throw a paper roll into the printer box without any adjustment and the Auto Cutter makes easy to tear off the printout.
Precise Measurement
Improved measurement accuracy with newly designed optical system.
Electric Chin Rest
The chin rest can be adjusted to the proper level from the operator side with the switch.
Advanced IOL Mode
Improved measurement accuracy of the subject with the cataract and/or the IOL implanted.
PD Measurement
Near PD is automatically calculated based on the measurement of Far PD at the selected distance.
Small Pupil Measurement
Improved system measures pupil diameter as small as 2.2mm.  The subject with long eyebrows and smaller eyes are measured easiler.
LCD Display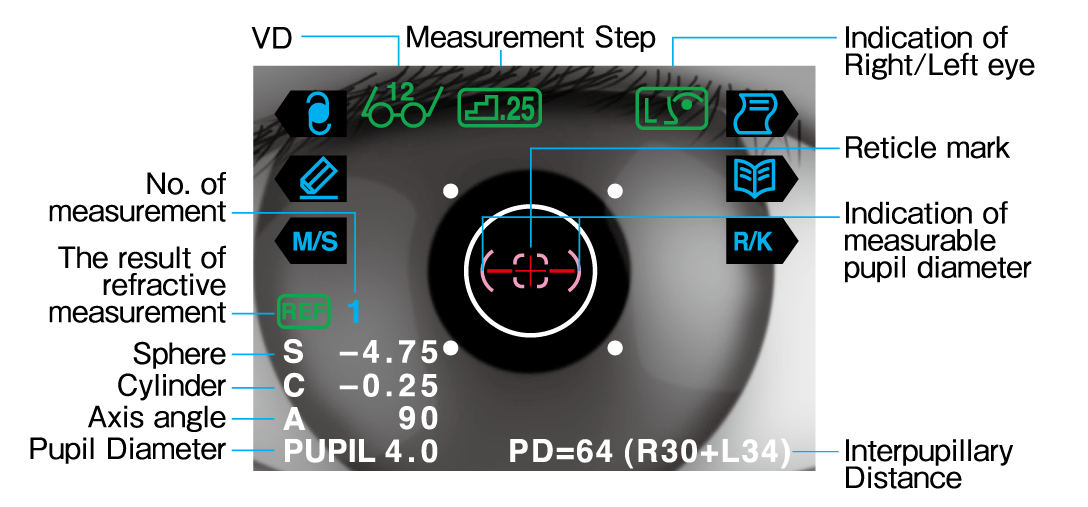 Specification